Inside Out Worship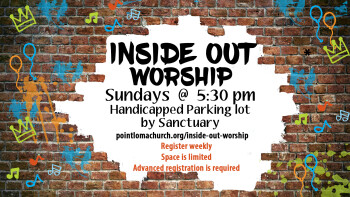 Please note as of July 3, Governor Newsom has restricted singing and chanting in places of worship. As a result, Inside Out Worship is currently on hold until the restrictions are eased.
As we continue to re:imagine what our time together may start to look like, we are excited to announce the launch of a brand new Worship service. Inside Out Worship is a small outdoor worship experience that will take place in the handicapped parking lot next to the Sanctuary. We will have overflow seating in the inner courtyards as well.
While we are excited about this new way to worship, we must remember that we are still in a pandemic as such, there are very strict guidelines that we must adhere to. In order to include everyone, the service will ALSO be livestreamed. We encourage those interested in attending from a distance to have a picnic dinner in their own backyard.
The new service will be able to accommodate up to 29 family "pods" or a maximum of 100 people. It will include a simple worship service including 2-4 songs (Café style), a brief meditation and a prayer. Additional elements of the service may include a communal large canvas painting, communion on the first of the month, individualized kid's activities (within family "pods"), and theme nights (i.e. Bluegrass, Jazz, etc.).
Guidelines for the service include:
Attendees are asked to bring blankets or camp chairs and remain in their designated socially distanced "pod" space with their family units. Pod space will be clearly marked on the ground.
All attendees over the age of 2 are asked to wear masks to the service and keep them on unless they are eating or drinking. (There is an exception for those whom wearing a mask poses a health risk.) A volunteer or staff person will have a basket of masks available for those who do not have masks. Masks must be worn during the singing portion of the service.
For the first couple weeks, participants are asked to arrive early to the service in order to assist with the seating process. Attendees will enter through the side parking lot gate where markers will be on the ground outside at least 6-feet apart to prevent overcrowding. There will be a flow through the outdoor parts of the campus and people will exit through the lower plaza gate. A staff person or volunteer will welcome and assist in seating.
Attendees are reminded to please refrain from all physical greetings (handshakes, hugs, elbow bumps), but encouraged to chat while distancing and engage in air hugs and warm smiles.
Children are required to stay with their family pods. If this seems too challenging for families with small children, we also suggest you stay home and join us for the livestream. And of, course we invite you to join us each Sunday morning at 9:00 am for our Red Brick Kids Worship service.
Please make sure to check everyone in your family's temperature before leaving home. We cannot have anyone with a temperature of 100.4 or higher in attendance.
Other Considerations
Hand sanitizing stations will be placed at the entrance to the parking lot, as well as, various places throughout the campus. The bathrooms in the middle courtyards will be open but asked to be used for emergencies only.
Members/Constituents who are in the vulnerable category, as defined by the CDC, including anyone that is feeling ill, are urged to stay at home and partake either in the morning virtual service or through the livestream. Additionally, those who have been exposed to someone with the virus, traveled internationally within fourteen days of the service, or recently traveled to "hot spots" are asked to refrain from attending.
Registration is required and is limited to the first 29 families or 100 people. We know that space for this service will fill up. In order to include all, we will offer it in a livestream format as well so that all can participate from home.