Lent Events
Join us during the Lenten season as we prepare to celebrate the resurrection of our Savior Jesus Christ. You will find all upcoming events on this page.

Ash Wednesday

February 17 | 9-10 am | noon-1 pm | 6-7 pm
As we continue to re:imagine this season, we are hosting a drive-thru Ash Wednesday event to kick off the Lenten season. Please make plans to attend our drive thru event. We'll be set-up on Chatsworth Blvd in front of the Sanctuary. Ministry leaders will be on hand to "ash" your vehicle as an external reminder of this beginning of the Lent season. You will also receive a Lent @ Home bag filled with items to inspire and engage you in our weekly Lenten series. Additionally, we will have an Ash Wednesday video service posted on our website that you may watch at your convenience.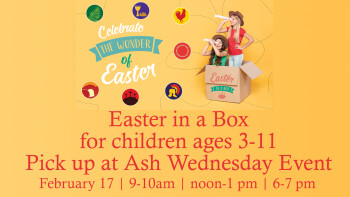 Families with children ages 3-11 are invited to pick up an Easter themed box to lead them through a meaningful Lenten season. Boxes are available for pick up during our Ash Wednesday drive-thru on February 17. Stop by the church parking lot between 9-10 am or noon-1 pm or 6-7 pm.
---
DEBRIEF THE SERMON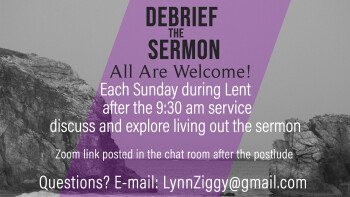 Please join the Debrief the Sermon team on Sundays during Lent to journey together in unpacking the sermon's meaning to each of us. In the closing weeks of the Letter to Exiles series, let's discover and learn together as we respond and apply the challenges of the morning's message. Just click the provided zoom link in the chat after the 9:30 am worship service. ANY and ALL are welcome to ANY or ALL of the sessions weeks (February 21, 28, March 7, 14 and 21).
---
A Musical Journey Through Lent - A Weekly Series
Wednesdays | 6 pm | via Zoom

Held on Wednesday evenings at 6 pm via Zoom, each week we will examine a particular song and how it connects to the Easter story.
FEBRUARY 24 | 6 PM
Led by Evan Gratz, Director of Community Life,
Song: I Believe in You by Bob Dylan
MARCH 3 | 6 PM
Led by RO Smith, Director of Youth Ministry and Cafe Worship Leader
Song: Valjean/ Javert Soliloquies from Les Misérables
MARCH 10 | 6 PM
Led by Pastor Alex Wirth, Associate Pastor
Song: Kyrie Eleison ("Lord Have Mercy" in Greek)
MARCH 17 | 6 PM
Led by Pastor Karla Shaw, Senior Pastor
Song: Mothers of the Disappeared by U2
MARCH 24 | 6 PM
Led by Alicia McMillan, Director of Worship and Music
Song: Seven Last Words by Michael John Trotta
Zoom info for the Weekly Lent Series: Join Zoom Meeting (Passcode: 967223)
---


Lenten Quiet Day
MARCH 6 | 9AM - 3 PM | REGISTRATION REQUIRED
All are invited to attend a quiet day retreat, Living in God's Love, on Saturday March 6 from 9 am – 3 pm held outdoors at the Southwestern Yacht Club* (2702 Qualtrough Street, San Diego, CA 92106). Designed to help you reflect, during the season of Lent, on the truth from Scripture that, "God is Love." The words are familiar and so inviting, but how do they ring true? Discover ways to move from a hope they are true to a reality in your relationship to God. This quiet day is open to men and women from all ages and stages.
*There is an in-person outdoor option, as well as an online/virtual option for participants.
---
HOLY WEEK
palm sunday
March 28 | 9:30 and 11:00 am | ONLINE
Celebrate Jesus' entry into Jerusalem with a traditional Worship service online.

palm sunday
March 28 | 10:00 am | DRIVE-IN | REGISTRATION REQUIRED
Celebrate Jesus' entry into Jerusalem with a drive-in Worship service in the church parking lot.
---

Path to the cross - Holy Week Experience

April 1 & 2 | 6-8 pm
Encounter dramatized scenes from Jesus' "Path to the Cross" during an easy 40 minute tour of outdoor church spaces and live music in the Sanctuary.
Registration is required as this is a timed-entry experience as we follow social distancing guidelines.


---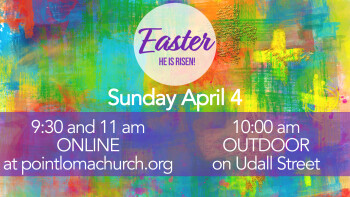 Easter

April 4 | 10 am | Outdoors on Udall Street
A festive outdoor worship service celebrating the resurrection of Jesus Christ.

April 4 | 9:30 am & 11 am | Online
A festive online worship service celebrating the resurrection of Jesus Christ.