Children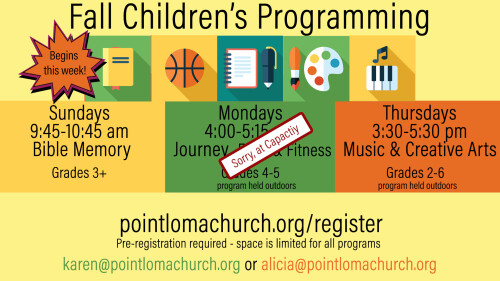 As we continue to Re:imagine during this unique time in our world, we are excited to offer some brand new, as well as some familiar programming for your children, ages 2nd-6th grade this fall.
Our Journey program for 4-5th graders resumes with a little twist. Knowing that the kids will be spending more time indoors for school work, we are going outside with Journey Faith and Fitness to include a heavier focus on physical fitness and moving in the fresh air! (Begins September 14) (Sorry, program is at capacity)

Bible Memory will be held on Sunday mornings from 9:45-10:45 am for children in 3rd grade and up. (Begins September 27)
Our Thursday, Kids Club and Children's Choirs are being re:imagined as a music and creative arts program this fall for 2nd-6th grade students. Held from 3:30-5:30 pm, these programs will take place outdoors. The Thursday program will include 2 music classes with a short recreation break. (Begins September 17)
The Jericho Drummers
An exciting Percussion Ensemble where children learn to play World Beat Drum Music from around the world and Bible beats. Children will learn drum technique, rehearse rhythms, steady beat, tempos and develop coordination and creativity. Students will be assigned their own instruments (no sharing.) The final class recording will be shared with our congregation in our Sunday online service. This class will be taught by Mr. Adam Thompson. Raised in our church, a current member and Music Assistant, Mr. Thompson has taught music for over 30 years in The USA, Tanzania, Malaysia and China and holds a Master's Degree in Music Education and a California Teaching Credential. Children of all musical levels are invited to participate in this fun new class!
Drama and Movement
Act, move and be a star in this new hybrid drama and movement class. Children will perform short Christmas plays, create movements and dramatizations of stories and music, sample folk dance from around the world, explore acting and public speaking and in the process have fun and build self-esteem! Whether you like being on stage or not, this is a great class to help everyone feel more confident and successful. This class will be taught by Alicia McMillan, the PLCPC Director of Worship and Music who holds a California Music teaching credential and a Master's degree in music. She has been a music educator for the last 20 years in public and private K-8 schools and has taught general music, folk dance, choir, recorders and children's choirs at PLCPC and directed over 30 church musicals.
Due to limits on group gatherings, pre-registration is required for all events and activities.
Classes and activities will be held outdoors when possible. There will be some indoor activity w/masks and social distancing.
For more information please contact Karen at or Alicia at
*Fall programming is quarterly. This session runs September - December. Different classes will be held beginning in January.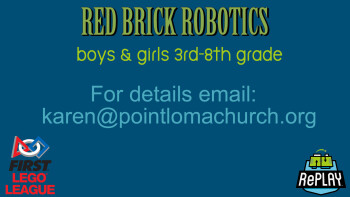 Red Brick Robotics is Returning!
Do your kids love LEGOs? How about robotics? Do they like creative challenges? Red Brick Robotics may be just the place for them. Kids in grades 3rd-8th are invited to check out the Red Brick Robotics team. We compete in the First Lego League Robotics Competition. No previous programming experience is required. Kids learn block programming as they troubleshoot and build robots to complete LEGO-based challenges. Reach out to for more information.