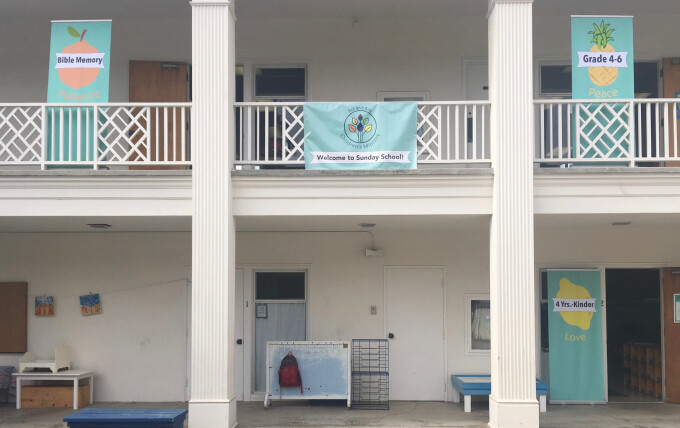 Children's Ministries is starting strong the first few weeks of our programs! We hope the trend continues well into the school year. Our new nursery opened up across from the Parlor and while there are still a few bugs to work out it is a sunny, pleasant and convenient space for our youngest members. Stop by to check it out when you have a chance. We continue to make progress on our new electronic child check-in system and will begin using it this Sunday!
We are very excited to share our new branding logo and signage for our weekly programs. You will start to see the signs around campus on Sundays especially in the children's courtyard. For a time now we have felt the need for an official identity to give us a larger visual presence on our campus, direct families to where they need to go, as well as to link our many forms of communication together with one identifiable brand. We are hoping that it gives our church
families, potential members, and those in the community a way to recognize and remember us. We are in the midst of doing great things for God so we want to be seen!
After many thoughtful hours of pouring over branding ideas we feel like we came up with a complete package that is visually attractive, fun, simple, and yet has a deeper Biblical meaning for our ministry. Our main logo is a circle surrounding a simple tree with leaves of beautiful colors with the center leaf displaying a cross. We feel that this tree icon represents the growth of our ministry with Christ directly in the center, leading us and guiding us through our many aspects of growth in life – both physically and spiritually. We deliberately included the words "Red Brick Kids" in addition to "Children's Ministry" surrounding the logo to not only show our ministry's purpose but to give us a fun and engaging name that we can affectionately be known. Our children will feel special attending their own "Red Brick Kids" program.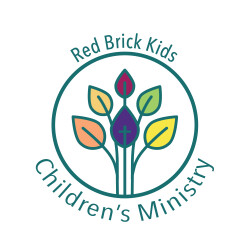 Our branding extends to classroom and nursery signage which seems even more of a necessity these days due to our focus on family ministry and the many new young faces we see around on Sundays. Our campus can be a bit confusing to navigate so our bright new signs will help parents and children find their way to the right spot. Our signage links to our main logo of the tree and each of our classrooms will now be associated with one of the Fruits of the Spirit; love, joy, peace, patience, kindness, goodness, faithfulness, gentleness, or self control. The signs will become a lesson in itself as well as be a fun way for the kids to feel special in their respective rooms. We feel that these fruit images along with the words are a great teaching tool. They are not trendy and are non-age and non- gender specific so they will stand the test of time. We are hoping that the rooms become affectionately known as the "Lemon Love" room, the "Peach Patience" room or the "Kiwi Kindness" nursery. We currently have six rooms that we use so we also included the "Pineapple Patience" room, the "Berry Joy" nursery, and the "Grape Goodness" room. In time the kids at each grade level will be taught all about the Fruit of the Spirit and will know that when they ask Jesus to live in them his Spirit stays with them and He will give them some of this special fruit. As they grow and learn more about Jesus, the Spirit will give them more and more fruit and they can become more Christ-like. They will learn that is hard to do it on their own, that each of us needs the Spirit to help and guide us.
Our eventual goal is to use our signage and branding images as inspiration to redecorate our 2nd floor classrooms into modern, welcoming, engaging, and visually attractive spaces. Spaces that our Red Brick Kids will joyfully want to visit and spend time in with their friends learning all about God's amazing love. We pray that this vision will be embraced and attainable in the near future.

In His Joy,
Karen