Prelude to Advent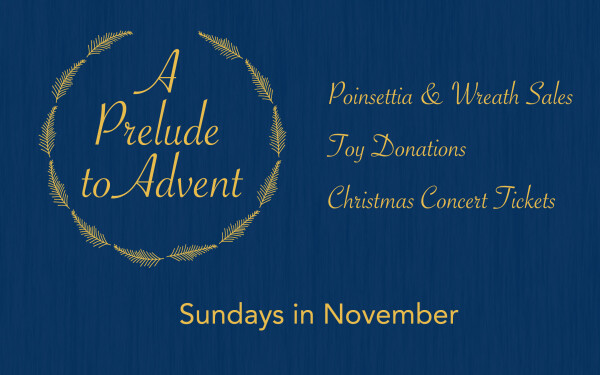 Sundays in November, the Plaza will be buzzing on Sundays with pre-sale of poinsettias and wreaths, Christmas concert tickets, and toy donations. Then, on November 26, there is a Mini Advent Fair where you can pick-up the poinsettias and wreaths as well as support the bell choir ministry with their bake sale; the prayer quilt and knitters will also have gifts for sale.
prepare ye the way of the lord: an advent contemplative day
Friday, December 1, 8:30 am - 2:00 pm
Before the hustle and bustle of the holiday season, come away and prepare your hearts for the Christ of Christmas! Advent represents a season of waiting for the newborn King, Jesus! This day will help you create space for YOUR newborn King as you enter into Advent this year. There will be meditations to guide you along the way to help you get ready to receive more fully the message of God's hope, love and peace!
SENIOR center christmas dinner
December 3, 3:00 pm
Enjoy a delicious meal before the Christmas Concert in the Family Life Center.
the joy of christmas: a concert for the community
December 3, 5:00 & 7:00 pm
New Covenant Choir, Ringers ReJOYce!, Children's Choirs, Worship Band, Soloists & Members of the San Diego Symphony
Tickets available Sundays on the Plaza and in the church Office
Military Outreach Mission (MOM) Toy Store
During the month of November MOM's is collecting toys for children ages newborns to age 12. The toys are for the children of enlisted military families grades E-1 to E-5 in the San Diego area.
All types of toys, athletic equipment, games and dolls are needed. Cosmetics and hair and nail supplies for the preteen girls are also needed.
If you don't want to shop, you can contribute money to help buy gift cards and/or bicycles. Please make your checks out to PLCPC with MOM's toy drive in the memo line.
On Sundays please bring your donations to the Toy Drive Table on the plaza or during the week you may drop off toys at the desk or in the Christmas box in the front office.
MOM's Christmas Toy Store | Saturday, December 2
Families come to pick out the toys for their children. If you would like to help at this event or in setting up the toy store on Friday, December 1, please sign up at the Toy Drive Table on Sundays.