Racism and the African American Experience
Pastor Karla led a 4-week class recently entitled Racism and the African American Experience. The class helps explain African American history and the role of the church. It helps define racism and other terms you may have heard floating out there like "white privilege" and it paints a picture of our current context and why there is so much anger.
Videos of the recordings are available. Audio recordings are also on our podcast.
Class 1
Class 2
Class 3
Class 4
Continuing the Conversation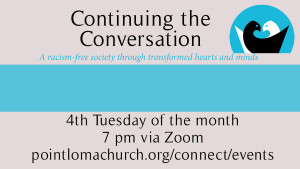 If you are interested in furthering your involvement and learning along with a group focused on a racism-free society, please consider getting involved with Continuing the Conversation (CTC). CTC is a community-based group originally formed at PLCPC. Their mission is to increase awareness and educate our community about the existence of, impact from, and solutions to hate and racism by promoting equity, justice, understanding and tolerance. Visit their website for more information.