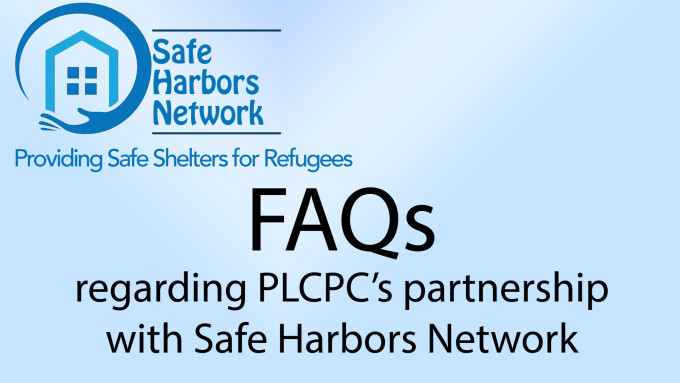 At their April meeting, the Session approved a proposal from the Mission Beyond committee to convert a Sunday School classroom into a temporary shelter for refugees/asylum seekers awaiting court hearings. Mission Beyond will coordinate with the Safe Harbors Network (SHN), who will assign asylum seekers to our shelter and assist in planning and operations.
What is the Safe Harbors Network?
Safe Harbors Network is a 501(c)(3) charity dedicated to creating bed capacity for immigrant asylum-seekers and refugees. Since its inception in 2016 SHN has assisted thousands of refugees and asylum seekers by creating a network of congregations, individuals, organizations and homes who provide temporary emergency shelter beds for refugees, immigrants and asylum seekers. More information about them can be found on their website at www.safeharbors.net.
What do you mean that PLCPC will provide shelter to a family seeking asylum?
PLCPC has agreed to provide temporary shelter on-campus for asylum seekers while they await their immigration court hearing or more permanent housing. The number of people housed is not to exceed four who are all members of the same family.
How long will they be here on campus?
The length of stay for a family is temporary for a period of time. The length of stay will vary depending on the specific situation. The average length of stay is approximately 90 days.
Is it safe to have people on our campus?
Prior to coming to our campus, each guest will be fully vetted by the Department of Homeland Security and the Safe Harbors Network. In addition, they will submit to the same safety protocols and background checks required of our staff.
Are we at risk, or are the people we are hosting at risk, of immigration authorities coming to on campus and taking the people away that we are hosting?
No, SHN works directly with immigration authorities. Each of the hosted people have documentation and are here legally.
What specifically is PLCPC providing to these families?
Per our agreement with SHN we will provide temporary, livable space. We will provide shower and sleeping facilities. We will also provide, as needed, cots, linens, toiletries, toys and clothing. We will collaborate with SHN to assist guests with transportation to court dates and appointments when possible.
Will you share stories, personal information or updates about the refugees on our campus?
No, we agree to not publicize or otherwise release any personally identifiable information about our guests to the public or media. Many refugees are running from persecution, and may not want their names, images or location to be shared anywhere. Please respect their privacy.
Can I meet the refugees on campus?
Again, we ask that you respect their privacy. They are often here under difficult circumstances. While we certainly want them to experience and feel the love of Jesus through our caring support, we do want to assure they feel safe and protected while on our campus.
What will the refugees do all day?
Each situation will be different. Depending on those who are sheltered on campus, they may be taking classes, caring for children or working to secure work Visas among other things.
What country(ies) will the refugees be from?
We do not know where those placed with PLCPC will be coming from. However, it is likely that our first family will be coming from the Ukraine.
Why are we doing this?
As the Church, we are called to welcome strangers in our land. This is a perfect opportunity to directly live out our faith being the hands and feet of Jesus. For I was hungry and you gave me something to eat, I was thirsty and you gave me something to drink, I was a stranger and you invited me in... Matthew 25:35
How long will this arrangement last?
Session will regularly evaluate the arrangement and will make adjustments as necessary.
How will the refugees' presence affect the renovation project?
The Renovation Task Force and Mission Beyond are working closely to assure that the refugees presence will not have any effects on the planned renovation of the children's area.
When will the refugees be on campus?
We are currently working to modify the room to make sure it is available beginning June 1. We anticipate that the refugees will be on campus soon after that date.
How is all of this being funded?
The room modifications and necessary supplies will be funded by the Mission Beyond committee. Additionally, the MBC has requested some funds from the Endowment to support the immediate needs.
How can you help?
Prayer is the one thing we are certain of as we prepare for a family. Pray for the family coming to us, pray for those assisting the family and pray for our community as we support this family during their time of need.
The Mission Beyond Committee has compiled a Custom Wish List on Amazon of some of the items we need for the housing. To see the list please click the link to be redirected to Amazon - PLCPC Temporary Shelter Amazon Wishlist. This is just the beginning of what is needed, your help would be greatly appreciated. More items and needs will be shared soon.