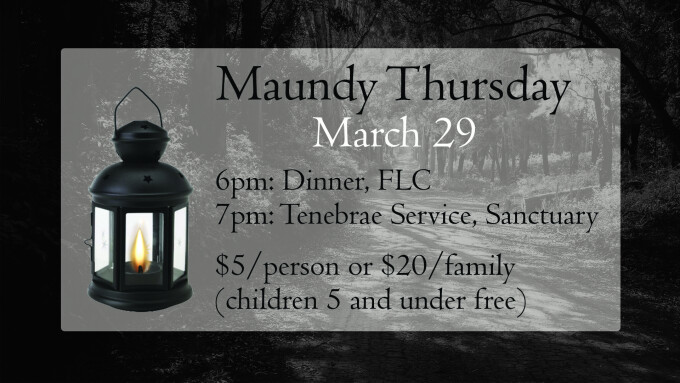 In Chicago, where I spent my last few years, Spring's arrival is always a moving target. Holy Week might roll around with balmy temps and tulips blooming… or the ground might be frozen solid and covered in snow. The Easter flowers at my old church had to be delivered in special insulated boxes so they wouldn't drop all their petals in the frigid winds between the delivery van and the church door. Palm branches were exorbitantly expensive and had to be flown in special. Lots of Churches made their Palm Sunday greenery out of construction paper and sticks or kept fake palms stored in the basement all year and had the yearly ritual of dusting them off.
Trudging through snow and grayness could make it particularly hard to amp yourself up for Hosannas and Easter Joy, but it made the equally important work of Maundy Thursday and Good Friday way easier. There is no darkness like a cloud burdened winter night. There is no quiet like sound-deadening, traffic-stopping snowfall.
I'm going to miss that kind of silence and stillness here in California. But just because we aren't burdened by our environment like our Midwestern siblings in Christ doesn't mean we shouldn't connect to that depth of silence and darkness as we prepare for Christ's Resurrection. Your experience of Easter will be so much richer if you first sit with what it would feel like for the Light of the World to be snuffed out.
The word "Tenebrae" is Latin for darkness and in our Maundy Thursday service this year, that is what we will be moving toward. We will read scripture texts, sing hymns, extinguish candles, ring bells; all to take us further into that dark place the disciples found themselves in after Jesus' death. Of course, we know today that the end of the story leads us to new life, but rushing past the discomfort of desolation is like skipping good, healthy food for the sweet emptiness of dessert in our whole lives. That can leave us with nothing but a sugarcoated faith that proves meaningless in hard times.
The temptation to skip the hard parts of Holy Week and jump to the chocolate bunnies and coconut cake of Easter is real. Resist! The dark moments of desolation before Christ's Resurrection are foundational to why we celebrate Easter with so much Joy. Come to the Maundy Thursday Tenebrae Service with your church family to witness the fading of the light. Come sit in the same darkness Christ's disciples felt so that your Easter Joy might be filled with new meaning this year.