Register
Current Open Registrations
ROOTED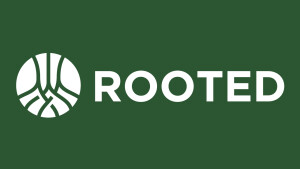 Rooted is a 10-week journey for people in every life stage. The weekly readings teach us what it means to be a disciple of Jesus through Scripture, prayer, worship, generosity and service. It isn't simply a bible study or a book. It is a community experience, where people practice 7 rhythms essential to a healthy relationship with Jesus. Individuals establish firm roots in the Truth of God's Word through personal study and then come together to discuss what they're learning in a space where they are safe and known.
You are invited to join us on this JOURNEY into deeper faith through the Rooted series. The meetings will take place on Monday evenings at 6 p.m. in the Chapel. The series begins Monday, February 25. For more information, please contact Evan Gratz,
---
LENTEN SERIES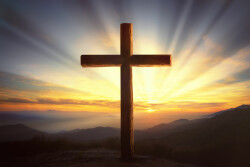 We are offering a 5-week teaching series each Wednesday nights during Lent in the Family Life Center (March 13, 20, 27, April 3, 10). This will be a time designed around a family meal, teaching time and conversation. Please make plans to join us for all or some of these nights. More details coming soon.
6:00-6:30 pm - Family Dinner ($5/person $20/family)
6:30-7:30 pm - Teaching Time w/discussion*
*childcare will be provided
---
LIFE AFTER LOSS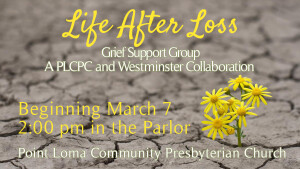 Life After Loss is a grief support group led by Rev. Alex Wirth from PLCPC and Rev. Megan Cochran from Westminster Presbyterian Church. It is geared towards those grieving the loss of a loved one. We'll be reflecting on scripture and passages from CS Lewis' A Grief Observed, praying, and using ritual to live into the new reality of our grief. The Life After Loss group will meet every other Tuesday, beginning March 7. (March 7, March 21, April 4, April 18, May 2, May 16).
---
Confirmation Class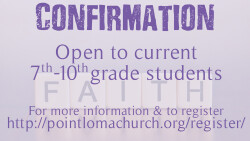 Open to current 7th-10th grade students. Confirmation is the time when young people claim the promises that were made on their behalf in baptism, or to be baptized as a follower of Jesus Christ. It is also an opportunity to learn what Presbyterians believe and to become full-fledged members of Point Loma Community Presbyterian Church. Cost of the program is $125 per student, which helps cover the cost of materials, the retreat, classes and the Confo Luncheon. **Please do not allow the cost of the program to prohibit participation as scholarships are available.
---
Campus by the Sea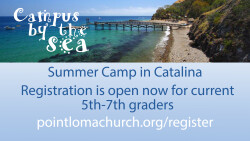 Attention all current 5th thru 7th graders!!! You are invited to join us for Junior High Summer Camp at Catalina Island from July 23-27!! We will spend the week worshiping God through playing, singing, and learning about Him and who He created us to be at Campus By The Sea.
---
Houseboats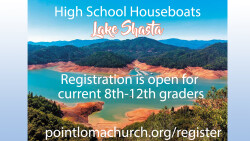 Attention all current 8th through 12th graders!!! You are invited to join us for a week at Lake Shasta August 4-10! We will spend the week playing in God's creation with activities like boondoggle, banana boating, and skiing/wakeboarding. We will be worshiping God and learning about Him and who He created us to be, and we will be celebrating community and life together.