Register
Current Open Registrations
---
ROOTED

Rooted is a 10-week journey for people in every life stage. The weekly readings teach us what it means to be a disciple of Jesus through Scripture, prayer, worship, generosity and service. It isn't simply a bible study or a book. It is a community experience, where people practice 7 rhythms essential to a healthy relationship with Jesus. Individuals establish firm roots in the Truth of God's Word through personal study and then come together to discuss what they're learning in a space where they are safe and known. You are invited to join us on this JOURNEY into deeper faith through the Rooted series. The meetings will take place on Monday evenings at 6 p.m. in the Chapel beginning January 27.
---
INTERFAITH SHELTER VOLUNTEERS NEEDED!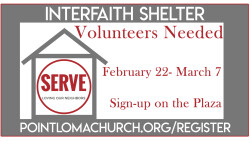 We will again host the Interfaith Shelter from February 22- March 7, 2020. All guests will be actively working with case managers at New Day Urban Ministries (formerly PUM) to seek employment, long-term housing, and other services. Individuals with active substance abuse or mental health problems are directed to other shelters that have resources appropriate for their needs. Volunteers are needed as overnight hosts, tutoring for children and some transportation needs. Details of specific needs can be found by clicking on the SIGN-UP button below.
---
CENTERING PRAYER HALF DAY RETREAT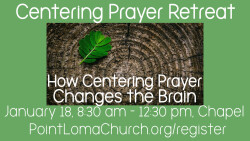 Centering Prayer Retreat Contemplative Outreach of San Diego Presents: Putting on the Mind of Christ: How centering Prayer Changes the Brain. This DVD workshop led by Chris Hagen, will explore the findings of studies that have identified brain structures that change as a result of meditation and how those changes have the potential to "clothe (the meditator) with compassion, kindness, humility, gentleness and patience."
---
WRITING WITH SCRIPTURE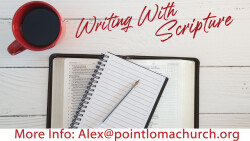 Calling all writers, journalers, poets, creatives, introverts and anyone else looking to engage with scripture in a new way: Come to Writing with Scripture!, a new six week class taught by Pastor Alex Wirth on Mondays starting January 27 from 6:30 to 8 pm in the Parlor.
---
CONFIRMATION IS COMING!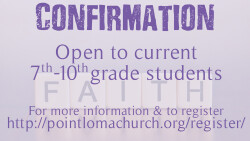 Confirmation (or as we like to call it "Confo") is the time when young people claim the promises that were made on their behalf in baptism. It is also an opportunity to learn foundations of Christianity, what Presbyterians believe, and to become full-fledged members of Point Loma Community Presbyterian Church. Classes begin in April. Registration opens December 1.
---
HIGH SCHOOL HOUSEBOATS!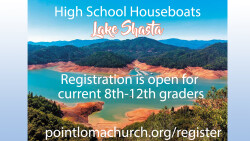 Attention all current 8th through 12th graders!!! You are invited to join us for a week at Lake Shasta July 26-August 1! We will spend the week playing in God's creation with activities like boondoggle, banana boating, and skiing/wakeboarding. We will be worshipping God and learning about Him and who He created us to be, and we will be celebrating community and life together.
---
CAMPUS BY THE SEA - JUNIOR HIGH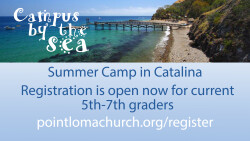 Attention all current 5th thru 7th graders!!! You are invited to join us for Junior High Summer Camp at Catalina Island from August 6-9!! We will spend the week worshipping God through playing, singing, and learning about Him and who He created us to be at Campus By The Sea. All spots are currently full, but we do have a WAITLIST. Sign-up and we'll let you know if we can get more spots.
---
CHILDREN'S MUSIC MINISTRY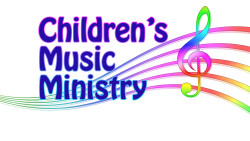 Our Children's Music Ministry offers a wonderful opportunity for children ages preschool through 6th grade to participate in a variety of music and movement based activities. Children develop confidence and self-esteem while learning with music games, rhythm instruments, movement activities and healthy vocal techniques.
---
WOMEN'S ANNUAL RETREAT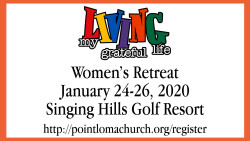 The Women's Retreat is a time to relax your body and rejuvenate your soul. This is an annual weekend of sisterhood and time with God. Join women from our congregation, neighboring congregations and their friends, grandmothers, mothers, daughters, sisters, aunts and nieces gathering from near and far to celebrate our Lord. It's time for YOU: no phones, no kids to watch, or meals to prepare!
---
VOLUNTEER APPLICATION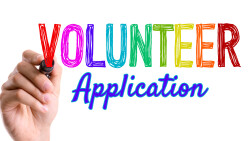 We appreciate the many volunteers who share their talents and time to serve together in our Christian environment. By respecting and affirming each other, volunteers strengthen relationships within our church family as well as the extended community. In order for PLCPC to maintain the safety and integrity of the ministerial, employee and volunteer relationships within the organization, all volunteers must meet basic requirements. A written application, including reference(s) and consent for a background check, if required, must be completed and signed by all prospective volunteers. Please click below to begin the volunteer application process.