Register
Current Open Registrations
---
PRESCHOOL POINSETTIAS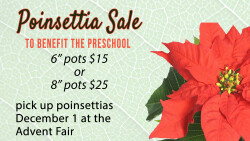 Please support our church Preschool while decorating your home with beautiful, vibrant, red holiday poinsettias. You can pre-order 6" pots at $15 or 8" pots at $25 each. Your poinsettias will be available for pick up on Sunday, December 1st at the Advent Fair. The Preschool is grateful for your support! Click below to order online, or call (619) 223-3327 or email by November 14.
---
SOUP AND STORIES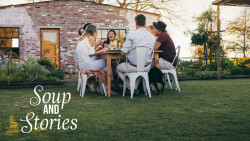 Please join us this Fall for an intergenerational potluck soup dinner for eight, to share some of the stories of God's movement in our lives. If you are interested in growing deeper in your faith, forming deeper connections with fellow church members, and growing closer as a church community, please consider either hosting or attending one of these simple two-hour dinners.
---
FOREST HOME WINTER CAMP! JANUARY 3-5, 2020
6TH-12TH GRADE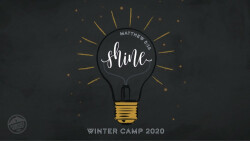 Ready to slide down a snow-covered tube run? Encounter Jesus? Deepen friendships with students in your youth group? Junior High/High School Combo Winter Camp is THE place for your 6-12th grade campers to get away from the academic and social pressures and instead focus on their identity in Christ and place in God's family of believers. For more info, click the register button below.
---
FOREST HOME WINTER CAMP - JANUARY 10-12, 2020
3RD-5TH GRADE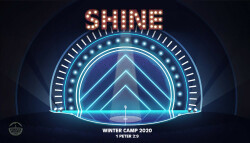 Children's Winter Camp at Forest Home is an opportunity for children, grades 3-5 to explore God's word and His creation in a beautiful setting in the San Bernardino mountains.
They will have a memorable experience with friends while having tons of seasonal outdoor fun. Leaders will engage the kids in dynamic Bible teaching which gives them an opportunity to affirm their faith life or kick-start it into action. Lives are transformed at Forest Home! $195 includes all meals, lodging and activities. Spots are limited so register online today!
---
YOUTH BUILD SPRING BREAK MISSION TRIP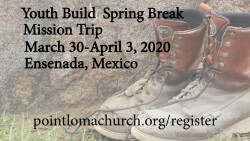 Attention all 6th-12th grade students, we are going to Mexico! Join us for our annual Youth Build Spring Break Mission Trip. We will continue the building process of the new camp center. Come join other students and adult volunteers in building and learning about all that God is doing to renew and restore orphans in Mexico through the ministry of Genesis Diez. Dates for the trip are March 30-April 3. Cost is $285 (includes $50 registration fee). There will be fundraising opportunities to help offset the cost.
---
CHILDREN'S MUSIC MINISTRY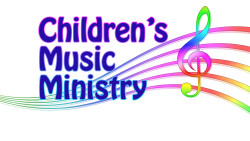 Our Children's Music Ministry offers a wonderful opportunity for children ages preschool through 6th grade to participate in a variety of music and movement based activities. Children develop confidence and self-esteem while learning with music games, rhythm instruments, movement activities and healthy vocal techniques.
---
WOMEN'S ANNUAL RETREAT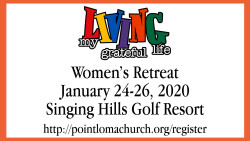 The Women's Retreat is a time to relax your body and rejuvenate your soul. This is an annual weekend of sisterhood and time with God. Join women from our congregation, neighboring congregations and their friends, grandmothers, mothers, daughters, sisters, aunts and nieces gathering from near and far to celebrate our Lord. It's time for YOU: no phones, no kids to watch, or meals to prepare!
---
VOLUNTEER APPLICATION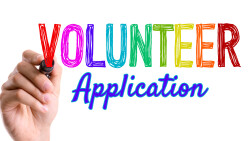 We appreciate the many volunteers who share their talents and time to serve together in our Christian environment. By respecting and affirming each other, volunteers strengthen relationships within our church family as well as the extended community. In order for PLCPC to maintain the safety and integrity of the ministerial, employee and volunteer relationships within the organization, all volunteers must meet basic requirements. A written application, including reference(s) and consent for a background check, if required, must be completed and signed by all prospective volunteers. Please click below to begin the volunteer application process.