Register
Current Open Registrations
VOLUNTEER APPLICATION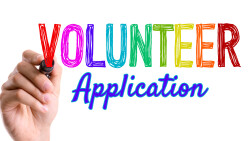 We appreciate the many volunteers who share their talents and time to serve together in our Christian environment. By respecting and affirming each other, volunteers strengthen relationships within our church family as well as the extended community. In order for PLCPC to maintain the safety and integrity of the ministerial, employee and volunteer relationships within the organization, all volunteers must meet basic requirements. A written application, including reference(s) and consent for a background check, if required, must be completed and signed by all prospective volunteers. Please click below to begin the volunteer application process. All current and prospective volunteers must complete this application by May 31, 2019.
---
SUMMER BOOK CLUB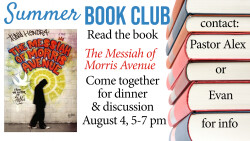 This summer Pastor Alex and Evan Gratz will be leading a Book Club. Each month they'll promote a book for you to read on your own before meeting at the end of that month for dinner and discussion. July's book is called, The Messiah of Morris Avenue by Tony Hendra.
---
RANCHO GENESIS MISSION TRIP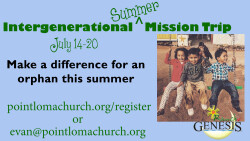 Come SERVE with others of all ages from PLCPC for a week in Mexico, just south of Ensenada. July 14- 20, we'll stay and SERVE at the brand NEW Rancho Genesis property! Questions or just want more information? Contact or click here.
---
FAMILY CAMP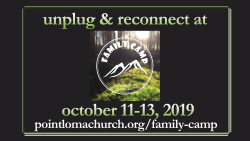 Join us for an amazing week of reconnecting with family and friends of all ages at Family Camp! We'll play together, Worship together, eat together and more!
---
BRICK Youth will be enjoying a night at Petco Park watching the San Diego Padres take on the Baltimore Orioles.
Even if you don't know much about baseball, come enjoy the snacks and friendships formed with other students. The game is Monday, July 29 at 7pm, and the cost of the ticket is $17. This cost DOES NOT include money for food or souvenirs. We will provide transportation from the church to the game and back. We will meet at 5:30 pm at the church!
NOTE: Our time of return will depend on various factors of length-of-game and traffic. We will text you our estimated time of arrival. Because we have a limited number of tickets, we are offering them on a" first come first serve" basis! If we run out, I will work with the Padres to get more, but it is not guaranteed.
Any questions, please contact RO Smith.
---
CHILDREN'S MUSIC MINISTRY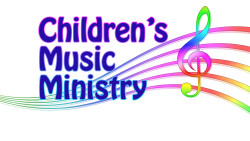 Our Children's Music Ministry offers a wonderful opportunity for children ages preschool through 6th grade to participate in a variety of music and movement based activities. Children develop confidence and self-esteem while learning with music games, rhythm instruments, movement activities and healthy vocal techniques.
---
VOCAL WORKSHOP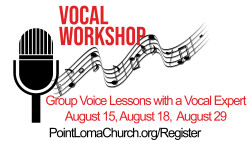 Whether you are a beginning singer or have years of experience, a voice can always improve and develop by studying vocal technique. Join us for a special summer workshop led by Martha Jane Howe. Sessions are $15 for retired adults ($20 for working adults) and will be held on Thursday, August 15; Sunday, August 18; and Thursday, August 29. Join us for one or all of the sessions. Click the link below for more information and to register.