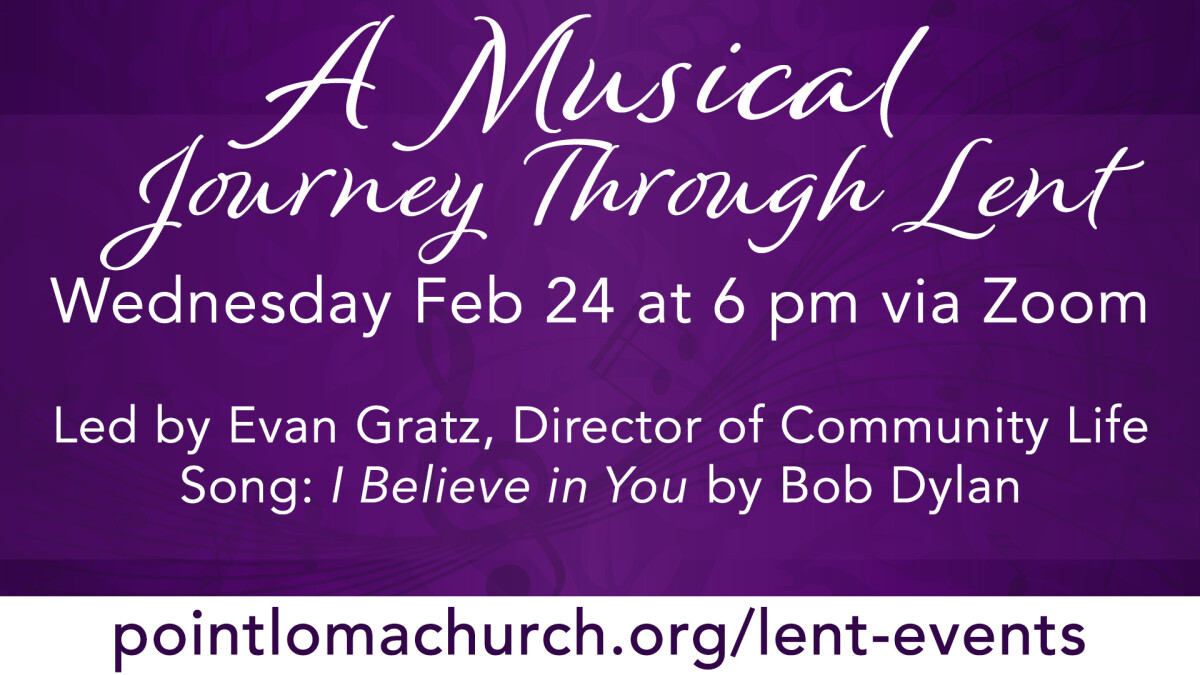 Wednesday, February 24, 2021, 6:00 PM - 7:00 PM
Lent is a time of preparation beginning with Ash Wednesday. It is the 40 days (not counting Sundays) leading up to Easter. It is a time to open our hearts a little wider in an attempt to understand our Lord a little deeper. It marks a tangible way for us to receive God's overflowing grace when Easter comes. We prepare for it, we reflect on it and we anticipate it so that when Easter Sunday arrives we are deeply reminded that it is not just another Sunday.
Each year, we offer a weekly Lenten series to help us all prepare for the joys of Easter. This year, you are invited to join us for A Musical Journey Through Lent. Held on Wednesday evenings at 6 pm via Zoom, each week we will examine a particular song and how it connects to the Easter story.
February 24 | 6 pm
Led by Evan Gratz, director of Community Life, we will explore, I Believe in You by Bob Dylan

March 3 | 6pm
Led by RO Smith, we will explore
March 10 | 6 pm
Led by Pastor Karla Shaw, we will explore Mothers of the Disappeared by U2
March 17 | 6pm
Led by Pastor Alex Wirth, we will explore Kyrie Eleison ("Lord Have Mercy" in Greek)
March 24 | 6 pm
Led by Alicia McMillan, we will explore Seven Last Words by Michael John Trotta.
Join Zoom Meeting
https://us02web.zoom.us/j/81634540320?pwd=d2VSZk9sMENHZlpoQy9wYzNnV1BwUT09

Meeting ID: 816 3454 0320
Passcode: 967223