A New Narrative for Youth Ministry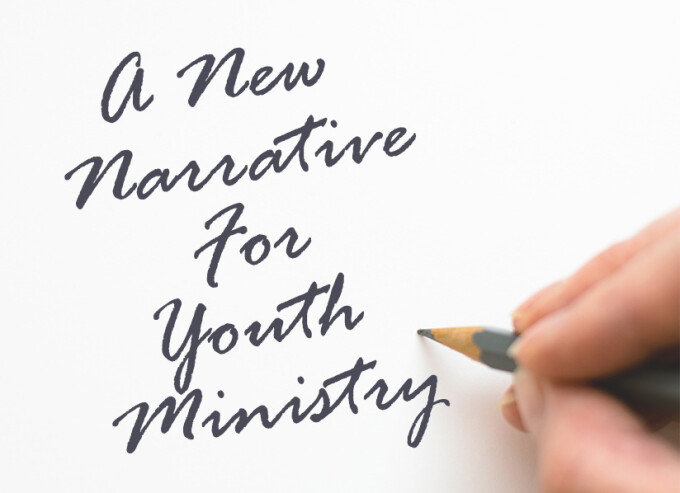 "We are struggling to find volunteers for our youth ministry. We just don't have the number of young adults coming to church like we did 15 or 20 years ago." This was the frustration a friend and youth director at another church communicated to me over coffee a few weeks ago. As I listened, I nodded my head with a sense of understanding as to the dilemma he was facing in his ministry. My friend started talking about strategic goals they have in place to try and reach the young adult population, and get them more engaged in their particular church context.

As my friend and I talked, I couldn't help but think of the camp in Michigan at which I spoke months prior where there were 1,000 high school students and volunteer leaders present. Looking around the room at the leaders, I noticed something unique: most of the adults in the room were OVER the age of 35! In talking with those volunteers – who had careers, spouses, and kids of their own – there was this aura they emitted which indicated that their involvement in youth ministry was just what they did. There was no strategic initiative to get "non-young adults" working with students. This was not a temporary stopgap solution while the church figured out how to engage more young adults who could come in and start volunteering in the youth department. It was as if these adults were living out the natural sense of calling on their lives.

Research shows that the young adult population is leaving the church faster than any other generation, and there is uncertainty as to when or if they will return. With this cultural reality in mind, and in reflecting on both of the experiences above, the word "narrative" kept resonating over and over again in my mind. My youth director friend was operating on an "old narrative" that believed youth ministry could only be done effectively by 18-30 year-old young adults who had disposable time and income to offer. While the adults in Michigan were operating out of a "new narrative" in which participation is dependent on the needs of the community, and the gifting of those within the community.

Recently, our staff was talking about an issue specific to youth ministry, and the conversation shifted to this very issue of narratives in youth ministry. The question came up: "What are the 'old narratives' in youth ministry?" Here are some examples of "old narratives" of youth ministry, and how we need to move towards a "new way" in which we view youth ministry in our context.
The "Who" Of Youth Volunteering
As stated from the story above, there is this belief that youth ministry is most effective when it is carried out by "young" volunteer leaders. This perspective denies an opportunity for people who do not fit into the young adult category to respond to their gifting because they don't "look a certain way" or "have certain amount of energy" to work with youth. Not only does this deny people an opportunity to use their gifting, but it denies children and youth the opportunity to be exposed to the gifting of another person that they so desperately need. Nor does it allow children and youth to be exposed to the diversity of different generations. Ultimately, to not live out our sense of calling and using our gifts hurts not only the youth, but the entire church.
Response Rather Than Vision
Historically, youth ministry was birthed out of a response to organizations like YoungLife and other parachurch organizations that reached out to students on-campus. The perceived threat by churches that organizations like YoungLife were "taking our kids away from the church" generated a response by the church, which is what we know as youth ministry today. Churches allocated parts of their budgets to hire staff, build rooms, and create experiences that would keep youth in the church. As we move forward, churches need to develop a vision for youth ministry that is not based out of "response mode", but rather out of a sense of calling to care for the young and vulnerable population.
Youth As The "Future" Church
One of the alarming facts in youth ministry is the number of students who walk away from their faith after high school. While many believe that "this is a natural phase" and "they will come back", the reality is that with people marrying and having kids later in life, they are not necessarily coming back to a community of faith and practice. In the research done by Fuller Youth Institute, many kids walk away from their faith after high school because they didn't have any connection to the greater body of Christ. There was an underlying mentality or cultural norm that seemed to tell children and youth that they are the "future of the church", rather than "the church present". While many congregations say the children and youth are part of the church, the actions of many churches is one that pushes children and youth to the margins while adults get on with the real purposes of church. Sadly, kids see through this and either leave the church altogether, or when they get older, start or join a congregation that looks like them where they feel a sense of belonging.
Provide A "Fun" Time
There is this pressure that youth ministries are supposed to make church "fun." There are many problems with this perspective, the least of which is the usurping of true discipleship. I believe that being in relationship with people can be fun, and I also believe there is a proper "theology of play." What is difficult is when we create this expectation and standard within children and youth that we are just going to have fun all the time, rather than lead them along the steps (sometimes difficult and "not fun") of what it means to be a disciple of Jesus.
Ministry Just to Youth
One of the biggest "takeaways" from my Youth & Family classes at seminary was the phrase, "The best kind of ministry for youth is one that considers the entire family." This resonated with me because I observed and participated in so much ministry that just considered the individual child. The needs of the child were put above all considerations, even if it undermined the role of the parent. While there are at times extreme circumstances, this praxis is generally a terrible and costly mistake. Youth ministry MUST partner with parents if we are to create long-term disciples, rather than short-term converts.

Conclusion
These were just a few of the many issues we talked about in youth ministry at the staff meeting. Some of the questions that emerge for our community of PLCPC to consider:
• How are we using our gifts as a response to the call to care for children and youth within our community? Are we truly operating out of a call, or are we allowing cultural guidelines to limit our serving children and youth?
• When we say we want "intergenerational," what comes into our minds? Are we really creating intergenerational opportunities, or just opportunities in which multiple generations are in the same room?
• Are we wanting to talk about reaching out to youth, or are we actually reaching out to youth? How many children and youth (and their families) would you say you know and are in consistent contact with?
• When we look at the current state of children and youth in our community, do we look on it with nostalgia (the "back in my day we had X-amount of kids coming" and "such and such" a program)? Or do we look at it and ask ourselves, "how can we make sure kids today experience the same loving context we experienced?"