March 19, 2020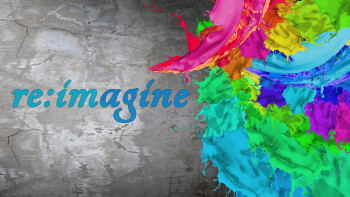 Dear Church Family and Friends,

Because of the Lord's great love we are not consumed, for his compassions never fail. They are new every morning; great is Your faithfulness!
Lamentations 3:22-23.
I woke up this morning to the sun shining outside my bedroom window and it reminded me to give thanks. There is something about the sun peeking itself from behind the clouds after days of overcast skies that reminds me of God's great love and mercy. I hope you are reminded of those things too. God is the same always, and that never changes and for that we can all give thanks.

I don't know about you, but that knowledge brings me comfort and hope right now, as it seems like everything else is changing. Our routines have changed and familiarity has taken a shift for the majority of us. But instead of wallowing in the loss, the word I find myself repeating over and over again these last days is the word "re:imagine." God has given us all an opportunity to re:imagine. To re:imagine our resources, to re:imagine the way we do community, to re:imagine how we educate our kids, and to re:imagine how we are called to be the Church.

Will you re:imagine with me?

Just over a week has passed since my first e-blast regarding changes we were making at the church to comply with our community efforts to limit the spread of this elusive virus (I refuse to give its name anymore air space). It is almost humorous to look back now, not knowing all the craziness that was to come. Since last week, we have adapted to a new normal at the church. We are striving to include all of us in this new rhythm in the days to come.
As many of you know, our church services have moved online and will be available beginning at 9:30 am every Sunday. You can watch at your leisure and even interact with others if you choose too. We had hoped to resume in person by April but are now planning to stay online through May 10, unless something changes.
A lot of our small groups, bible studies, and meetings have also moved online. Through the online platform of Zoom, we have kept most of our smaller groups in contact. If you are a leader of a ministry and want guidance on how to use this technology or phone conferencing, please contact Evan Gratz ( ). He will walk you through a phone call on set-up or (if you are comfortable) send someone to your house to get you set up online. We want EVERY group to stay connected, if possible.
We are keeping our children engaged in various ways. Karen Connor and her team are working on educational tools with drive-by/drop-off prizes/resources for kids and their families, as well as, each Sunday morning, Karen is preparing a brief online worship service just for kids.
Our elders and deacons are attempting to contact all of our members and constituents on a weekly basis to assess needs. We are also in touch with how we might help all of our mission partners. We have folks that are not high-risk that are prepared to deliver food, supplies, and assistance as requested.
Our preschool, although currently closed to children through April 3, is still in operation. Our teachers are working hard from home to create in-home activities for the kids, create interactive online accounts, and keep relationships alive during this time.
Due to the new May 10 date, we are in process of re:imagining all in-person events through that time. This includes Easter Fest, Maundy Thursday, Good Friday, Women Connecting Dinner, and the Men's Retreat. These events are not cancelling, rather some will be rescheduled for another time, and some will still happen online.
All of this re:imagining though is not without its challenges. The truth is we don't really know how long it will be before we can meet again in person, and so we are being tasked to remain fluid. We are still waiting for a solid "go" from our city, state, and community care licensing for our preschool to re-open on April 6. In the meantime, we have personnel we need to continue to pay, and we need your help to be able to do so.

Please continue to remember the church with your giving.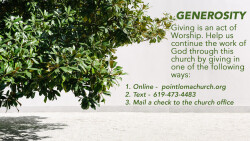 Many of you already give regularly online and we are grateful for your continued contributions. But if you are in a category where you can give more at this time, please consider doing so. It would enable us to off-set loss in our rental income, loss in preschool tuition payments, and provide some relief for those who have become financially burdened. If you have not already taken advantage of this easy option, please check out www.pointlomachurch.org/give/. We can also receive contributions via text at 619-473-4483. Our church office is also still open, and we would be happy to receive contributions in the mail (PLCPC, 2128 Chatsworth Blvd, San Diego, CA 92107).

These are exciting times and God is moving us in a new way and helping us "re:imagine" the church! Let us all make sure no one gets lost.

I thank my God every time I remember you. In all my prayers for all of you, I always pray with joy because of your partnership in the gospel from the first day until now… Philippians 1:3

"See" you soon!
Pastor Karla