Register
Current Open Registrations

MAY 2022 SENIOR EVENTS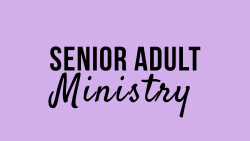 The Senior Adult Ministry May events registration is now open. Please click the button below to register for Senior Events.
---
LADIES BOOK STUDY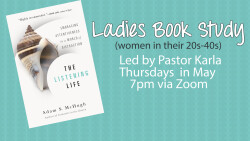 Pastor Karla will begin a new Ladies Book Study on May 5 at 7 pm. The group will gather via Zoom on Thursdays in May to discuss the book, The Listening Life: Embracing Attentiveness in a World of Distraction by Adam S. McHugh. All women in their 20s, 30s or 40s are invited to join the discussion. Register below to receive the Zoom link.
---
PERSON OF INTEREST CLASS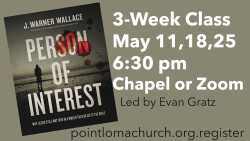 Can the truth about Jesus be uncovered--even without a body or a crime scene? Join Evan Gratz, director of community life, for a 3-week class on J. Warner Wallace's acclaimed book, Person of Interest: Why Jesus Still Matters in a World that Rejects the Bible. The class will meet May 11, 18 and 25 at 6:30 pm in the Chapel.
---
DISCOVER OUR COMMUNITY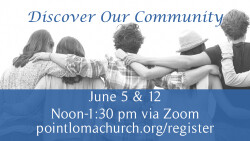 Are you interested in learning more about Point Loma Community Presbyterian Church? Want to get to know our community a little better? Join us for our next Discover our Community class on June 5 & 12. This two-part class teaches more about who we are, what we believe and how you can get better connected. The class runs from noon-1:30 pm via zoom over two Sundays. Click below to register.
---
VBS WORKDAY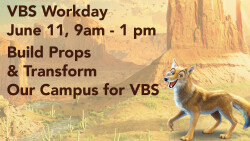 To assure that VBS is MONUMENTAL this year we are looking for some volunteers to help transform our campus into an off-road adventure. Join us to prepare props, decorate rooms and other prep work in anticipation of this amazing week designed to help kids form a rock-solid faith for the road ahead. We'll begin transforming the campus on June 11 from 9 am - 1 pm. Continental breakfast will be provided.
---
JUNIOR HIGH SUMMER CAMP - CAMPUS BY THE SEA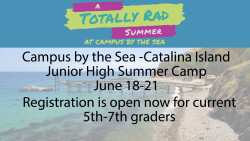 Attention all current 5th thru 7th graders!!! You are invited to join us for Junior High Summer Camp at Catalina Island from June 18-21!! We will spend the week worshipping God through playing, singing, and learning about Him and who He created us to be at Campus By The Sea.
---
HIGH SUMMER CAMP - ROCK-N-WATER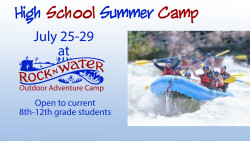 Attention all current 8th through 12th graders!!! You are invited to join us for a week at Rock-N-Water in Placerville, CA! We will spend the week of July 25-30 playing in God's creation with activities like river rafting, canyoneering, and rock climbing...on an actual mountain. We will be worshipping God and learning about Him and who He created us to be, and we will be celebrating community and life together.
---
RANCHO GENESIS INTERGENERATIONAL MISSION TRIP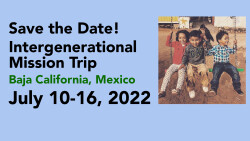 Come serve with others of all ages from PLCPC for a week in Mexico, just south of Ensenada. We'll be staying and serving at the new Rancho Genesis property as we spend the week serving at the camp and caring for kids from an orphanage on July 10-16.
---
YOUR LIFE IS A WORK OF ART HARDCOVER BOOK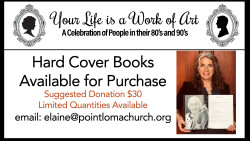 Our Senior Ministry has created a beautiful hardcover book featuring our Your Life is a Work of Art exhibit participants. As you may recall the beautiful outdoor exhibit featured 22 amazing photos and biographies celebrating people in the 80's and 90's. If you are interested in purchasing a copy of the book please click the button below.
---
VOLUNTEER APPLICATION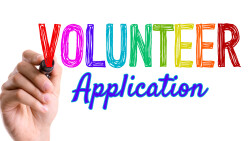 We appreciate the many volunteers who share their talents and time to serve together in our Christian environment. By respecting and affirming each other, volunteers strengthen relationships within our church family as well as the extended community. In order for PLCPC to maintain the safety and integrity of the ministerial, employee and volunteer relationships within the organization, all volunteers must meet basic requirements. A written application, including reference(s) and consent for a background check, if required, must be completed and signed by all prospective volunteers. Please click below to begin the volunteer application process.